Description
V Series PSU
The V series of 80 Plus Platinum power supplies unit (PSU) is built using the highest-grade components available, including 100% high quality Japanese capacitors, to ensure excellent efficiency, hold up times, voltage stability, and ripple suppression. The V series uses a fully modular cable system with extra slim flat-ribbon cables to improve cable management and allow for clean and elegant looking builds.
Silencio FP Fan
The rotation speed stays lower in the Silencio while delivering high air pressure, meaning less noise. After 50% load, the rotation speed difference compared to double ball fans is 16% better in the V750, 22% in the V650, and 34% in V550.
Fully Modular Cable
All cables are flat cable and black colour ,including 24pin MB cable. Compared to old round cable design , flat cable can make cable management easier and cleaner ! A good cable management also allows you to have better heat dissipation in case and enhances your total thermal performance.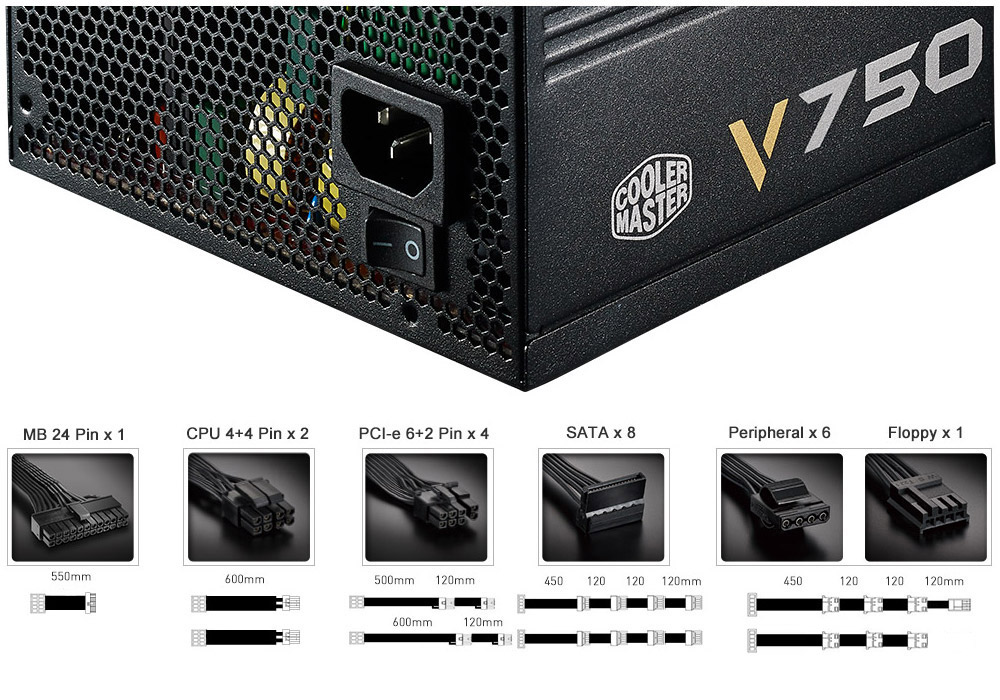 Special Features:
Unique 3D circuit design offers higher efficiency and improves the heat dissipation
Cooler Masters exclusive Silencio FP fan technology enhances airflow, reduces vibration and provides the best thermal performance
Fully modular, flat cable design for better cable management
100% Japanese capacitors ensures an extended lifetime and minimizes power fluctuations
Compact design 6.8W/inch3 fits perfectly with small form factor systems
80 PLUS Gold certified: up to 92% efficiency on typical load
What does Zi-Clone say about the MasterWatt Lite PSU?
Power Supply Units can be found in all shapes and sizes, and a wide range of prices.  The best way of approaching a PSU is to know what you want from it.  If you are looking for a high end PSU to fit in with your gaming components then look no further!  Great looking and bit round efficiency and power.  Silent and reliable and at a good price point for a gold fully modular PSU.
We currently use this PSU in custom builds based around AMD 1700 - 1800x with an Nvidia range of GT1060 to GTX1080.  Our test show the V series PSU lives up to the high standards of the Cooler Master PSU range.
Buy it as a replacement for a new custom rig or to sit with an upgrade to a new graphics card and make it yours.