Description
GEFORCE GTX 1660 SUPER OC 6G
Gigabyte GTX 1660 Super OC 6G is a good looking and excellent graphics card at this price point. The 1660 Super OC 6G from Gigabyte comes with the fantastic features below.
GV-N166SOC-6GD
Features
Powered by GeForce® GTX 1660 SUPER™
NVIDIA Turing™ architecture and GeForce Experience™
Integrated with 6GB GDDR6 192-bit memory interface
WINDFORCE 2X Cooling System with alternate spinning fans
90 mm unique blade fans
Protection Back Plate
Core Clock
1830 MHz (Reference Card: 1785 MHz)
WINDFORCE 2X COOLING SYSTEM
WINDFORCE 2X cooling system features 2x 90mm unique blade fans, alternate spinning fan, a composite copper heat pipe direct touch GPU and 3D active fan functionality, together delivering an effective heat dissipation capacity for higher performance at lower temperatures.
ALTERNATE SPINNING
The GIGABYTE "Alternate Spinning" is the only solution that can solve the turbulent airflow of adjacent fans. Since the adjacent fans rotate in the same direction, the airflow direction is opposite between the fans, which will cause turbulent airflow and reduce heat dissipation efficiency. GIGABYTE turns the adjacent fans in the opposite direction, so that the airflow direction between the two fans is the same, reducing the turbulence and enhancing the airflow pressure.
UNIQUE BLADE FAN
The airflow is spilt by the triangular fan edge, and guided smoothly through the 3D stripe curve on the fan surface, effectively enhancing the airflow.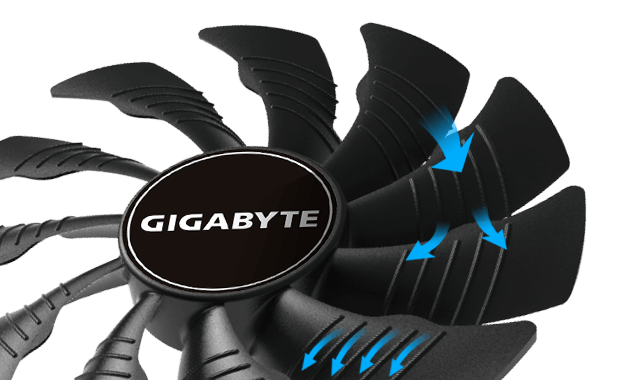 3D ACTIVE FAN
The 3D Active Fan provides semi-passive cooling, and the fans will remain off when the GPU is in a low load or low power game. It allows gamers to enjoy gameplay in complete silence when the system is running light or idle.
HEAT PIPE DIRECT TOUCH
The shape of the pure copper heat pipe maximizes the direct contact area with the GPU, enhancing heat transfer. The heat pipe also covers the VRAM through a large metal plate contact to ensure proper cooling.
COMPOSITE HEAT-PIPE
The composite heat-pipe combines thermal conductivity and phase transition to efficiently manage the heat transfer between two solid interfaces which increases cooling capacity.
BUILT STRONG
EXTREME DURABILITY
The graphics card uses the better power phases design to allow the MOSFET to operate at lower temperature, and over-temperature protection design and load balancing for each MOSFET, plus the Ultra Durable certified chokes and capacitors, to provide excellent performance and longer system life
PROTECTION BACK PLATE
The back plate not only provides an aesthetical shape, but also enhances the structure of the graphics card to provide complete protection.
AORUS ENGINE
The cutting edge intuitive interface allows you to adjust the clock speed, voltage, fan performance and power target in real-time according to your game's requirements. (The actual software UI and functionalities depend on each device model.)
GEFORCE GTX 1660 SUPER FEATURES
GEFORCE EXPERIENCE  The essential companion to your GeForce graphics card. Capture and share videos, screenshots, and livestreams. Keep your drivers up to date and optimize your game settings.
NVIDIA ANSEL  This powerful photo mode lets you take professional-grade photographs of your games like never before. Now, you can capture and share your most brilliant gaming experiences with super-resolution, 360-degree, HDR and stereo photographs.
BROADCAST LIEK A PRO  Get amazing performance and image quality while live streaming to Twitch or YouTube. The 16 Super Series feature dedicated hardware encoders that deliver improved efficiency over prior generation graphics cards and are optimised for Open Broadcaster Software (OBS).
TURING SHADERS  Featuring concurrent execution of floating point and integer operations, adaptive shading technology, and a new unified memory architecture with twice the cache of its predecessor, Turing shaders enable awesome performance increases on today's games. Get 1.4x power efficiency over previous generation for a faster, cooler and quieter gaming experience.
If you are looking for more performance then this graphics card.  We have a wide range of RTX graphics cards available.  Ranging from the Zotac RTX 3060 upwards.  We also have a selection on AMD Radeon graphics cards to consider.