Description
Palit GeForce RTX 3070Ti 8GB Gaming Pro Graphics Card
ADD A PROFESSIONAL LEVEL TO YOUR GAMING
The Palit Geforce RTX 3070 Ti GamingPro (NED307T019P2-1046A )offers remarkable visuals, incredibly fast frame rates, and AI acceleration for gaming and creative applications. Boasting a solid protective backplate, 0dB fan technology, a comprehensive connection panel giving you all you need to give yourself next-generation performance. Combining an iron-black and silver-grey design with built-in ARGB, this revolutionary card also lets you customise the lighting to bring ambience and personal style to your rig. Discover ultra-powerful performance like never before, powered by the all-new NVIDIA GeForce Ampere architecture boasting 2nd Generation RT cores and 3rd Generation Tensor Cores to bring you the biggest graphical performance leap of the modern era giving you the power you need to tear through even the most demanding games.
A Vivid Light Show
SHOW OF YOUR STYLE With addressable RGB lighting on the front panel, customise each LED to give your GPU your own personal style, you can even apply lighting effects directly through Palit's Thundermaster software
Amazing Features to Keep you Cool
HONEYCOMB BRACKET The design of the honeycomb bracket increases airflow by up to 15%, allowing the heat generated from GPU to be exhausted via the bracket far more effectively. Efficient cooling to the max.
0-DB TECH FOR SILENT GAMING Keep your GPU silent when under low demand, such as enjoying multimedia applications and general day-to-day task workload. The fans will only become operational under high demand allowing you to work with fewer distractions
DOUBLE U HEATPIPE. The patented Double-U Heat Pipes are meticulously moulded in optimal angles. Giving double-bent into an efficient U-shape. This enables 20% more heat dissipation for the RTX 3070 Ti GamingPro. Reduceing the overall max temperature of the GPU by up to 5°C. With this technology, the 6 heat pipes can offer a massive 6+2 bonus effect on thermal performance.
TRIPLE A DIE CASTING PLATE KIT Two die casting moulded "Aluminium Alloy Armor" plates fully cover the circuit board and directly attach to all the hot spots on PCB. They provide optimised heat dissipation and also protection from knocks and bangs.
Next-Generation Technology to Accelerate Gaming
DRMOS DrMOS, originally only available for high-end server CPUs, is now available in all its glory in the next generation of Palit graphics cards. DrMOS offers high current circuits, low noise operation, and effective reduction of heat generating.
THE ALL-NEW THUNDERMASTERPalit's new ThunderMaster has had a thorough upgrade. It has a more user-friendly interface as well as more personalised settings. ThunderMaster lets you control your overclock settings, fan speeds to LED effects. You can also monitor GPU status with ThunderMaster utility.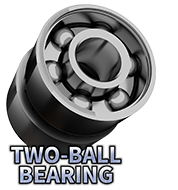 TurboFan 3.0: 2-Ball Bearing
TurboFan upgrades to 3.0 version with 2-ball bearing to reinforce fan stability.
Features:
• IP5X dust resistant technology
• Lower fan vibration
• Prolonged fan life expectancy
NVIDIA Ampere Architecture
2ND GEN RT CORES 2X THROUGHPUT
3RD GEN TENSOR CORES UP TO 2X THROUGHPUT
NEW SM 2X FP32 THROUGHPUT
DLSS AI Acceleration with the RTX 3070 Ti GamingPro
MAX FPS. MAX QUALITY. POWERED BY AI. NVIDIA DLSS is groundbreaking AI rendering that boosts frame rates with uncompromised image quality using the dedicated AI processing Tensor Cores on GeForce RTX. This gives you the performance headroom to crank up settings and resolutions for an incredible visual experience. The AI revolution has arrived to gaming.